Autel G-Box 2 Key Programming Add-on for IM608, IM508 and KM100
To use with both the Autel Maxi IM608 and Autel Maxi IM508. The Autel G-Box is designed to be used on Mercedez-Benz, BMW with DAS3 CAN EIS/EZS in AKL, and recent model VW/Audi MQB platform vehicles . It helps to reduce the time for reading the ECU data from W204 and W207 EISs by over 85%. It can read/write to Bosch ECU on BMW F series and VW MQB platform.
The Autel G-BOX 2 uses fast mode on vehicle and bench when all keys for Mercedes-Benz vehicles using the DAS3 EIS/EZS are lost. The use of the G-BOX2 reduces the time needed and eliminates the process of insertion and removal.
The Autel G-BOX 2 can read and access most engines manufactured by Bosch including EDS/ MEx17 series engines used in for BMW and for Volkswagen Vehicles. This capability supports the ability to perform adaptions when all keys are lost and engine is replaced.
The G-BOX2 is compatible with the Autel's advanced diagnostic tablets support IMMO and key programming functions.
---
Autel G-Box 2 Main Features:
1. For Mercedes Benz All Keys Lost, Faster Password Calculation
2. Used with IM608
3. Used for Faster Mercedes ECU data and EIS password calculation
4. For Mercedes DAS3 can EIS / EZS all keys lost
5. Reduce time reading W204 ECU data & W207 EIS by over 85%
6. No need to remove and reinsert the key for W221 & W164 after 2009 models
7. For BMW DME / DDE ISN reading and writing in boot mode
8. G-Box is compatible with both the Autel MaxiIM IM 608 and IM508 with XP400, also compatible with Auro IM600 and Auro IM100 with XP400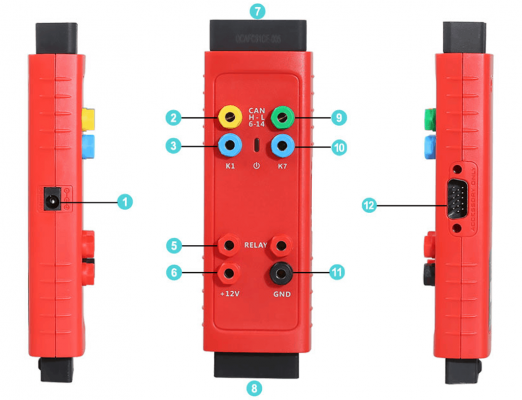 DC Port -Provides +12 DV power supply
Can-H Port: Universal Can Bus interface, connects with OBDII PIN6
K1 Port: Universal K-Line interface, connects with OBDII PIN1
Status Indicator: Indicates the current operating status
Relay Ports: Connect with dedicated relay cables
+12V Power Port: Universal power input/ output port
OBDII Connector: Connects to the vehicle's OBDII directly or via a dedicated extension cable
OBDII Female Connector: Connects to the main cable of Autel Diagnostic Tool
Can-L Port: Universal Can Bus interface, connects with OBDII PIN14
K7 Port: Universal K-Line interface connects with OBDII PIN7
GND Port: Universal Power Input/ Output Port
OB15 Port: Used with dedicated BD15 Cable for reading and wrting multiple types of ECUs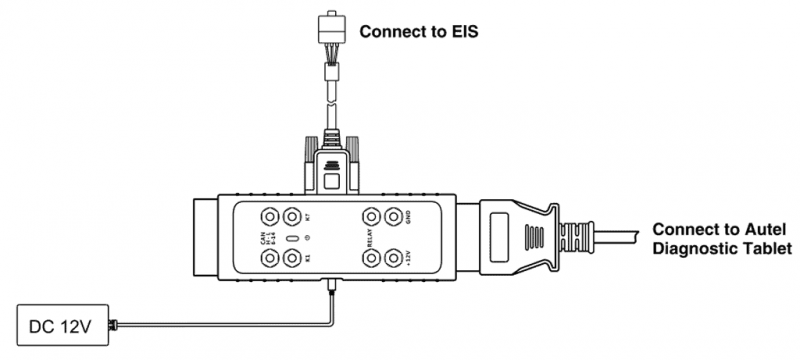 1. Connect the G-Box to the Mercedes-Benz EIS using the supplied DB15 Cable
2. Connect to the DC port of G-Box using a power adapter (DV 12V)
3. Connect the G-Box to the Autel Diagnostic Tablet
Autel G-Box 2 Package Content:
1pc x Autel G-BOX Accessory Tool
1pc x Clamp Cable
1pc x K-Line Cable
1pc x Fuse Cable
1pc x OBDII Extension Cable
1pc x DB15 Cable