We no longer stock the Artidiag 800T due to  quality control issues, and insufficient storage space for latest software updates.
TOPDON ArtiDiag800 BT is designed with technicians in mind. This 6" Android tablet-style scanner boasts high-quality features with easy to use interface to tackle common and complex vehicle diagnostic issues for most modern vehicles worldwide. The Topdon software is licensed from Launch Tech with the same functionality of Launch X431 CRP909X. The Bluetooth VCI dongle has been included allowing wireless diagnostics for optimal efficiency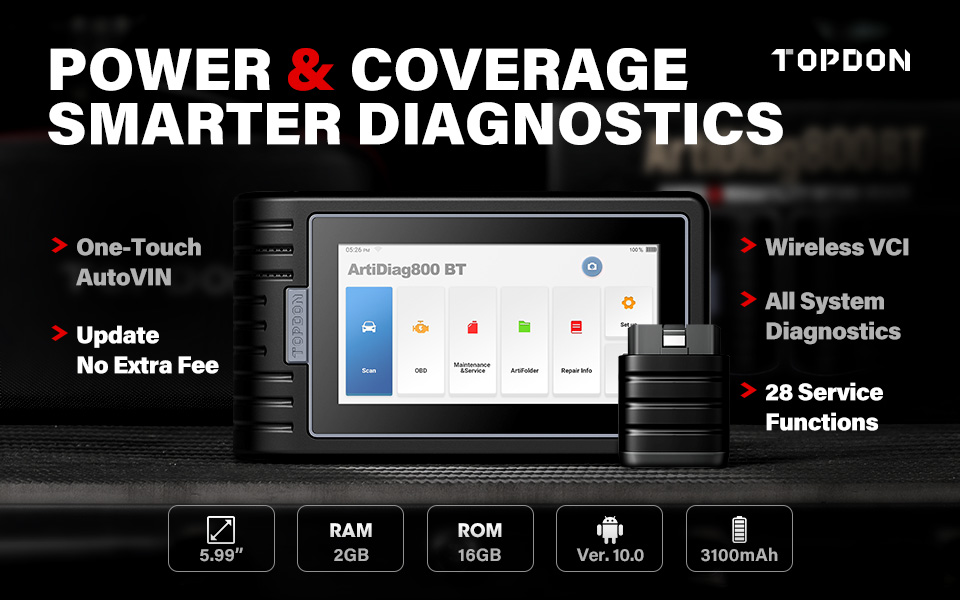 2021 Global Version, LIFETIME FREE UPDATES
Easy to do software updates by One-Click on the tablet via wifi connection. All supported car brands softwares are included with full diagnostics for all systems. You don't need to buy software separately.
Topdon ArtiDiag 800 and LAUNCH CRP909X share the same software updates, car brands and functions, but TopDon ArtiDiag 800 uses Bluetooth connector while LAUNCH CRP909X uses OBDII cable connection.
Full Review and demo of ArtiDiag 800BT
All Systems Diagnosis
This diagnostic scanner can establish a data link to all systems and subsystems of the vehicle being serviced to: –
Retrieve ECU information of the tested control units including unit type, version numbers, and other specifications, etc.
-Read & erase DTCs to locate problem areas and clear the codes.
-View Live Data of each parameter item.
The following is a list of modern vehicle systems that this scan tool can get access to:
-Engines / Auto Transmission / Airbags / Immobilizer / Key Coding / ABS / Cruise Control / Instruments / Self Leveling Suspension systems -Seats / Doors / Gateway / Steering Angle / Air Suspension / Body Systems / Electronic Power Steering & Motor Assisted / Power Steering / Tyre Pressure / Rain Sensors / 4WD System -Stabilizer / Intelligent Parking Assist/Door Motors / Audio Systems / Air Conditioning / Tiptronic / Anti Theft / Soft Top / Headlamp Leveling / Central Locking / Automatic Clutch / DPF Reset -Electric Windows / Plip Programming / Heated Rear Window / Xenon Headlights / Wash Wipe / Fuel Burning Heater / Transfer Box / Seat Memory / Oil Life Service Reset / Sliding Doors / Electronic Throttle -Navigation System / Rollover Sensor / Cruise Control / Multi Function Steering Wheel / Aux Heating / Electronic Parking Brake / Clutch Electronics … and more.
This comprehensive scanning process is able to locate the faulty systems and retrieve the related DTCs easily. So you can work on all parts of the vehicle systems to optimise vehicle performance, save energy, reduce emissions, and everything else.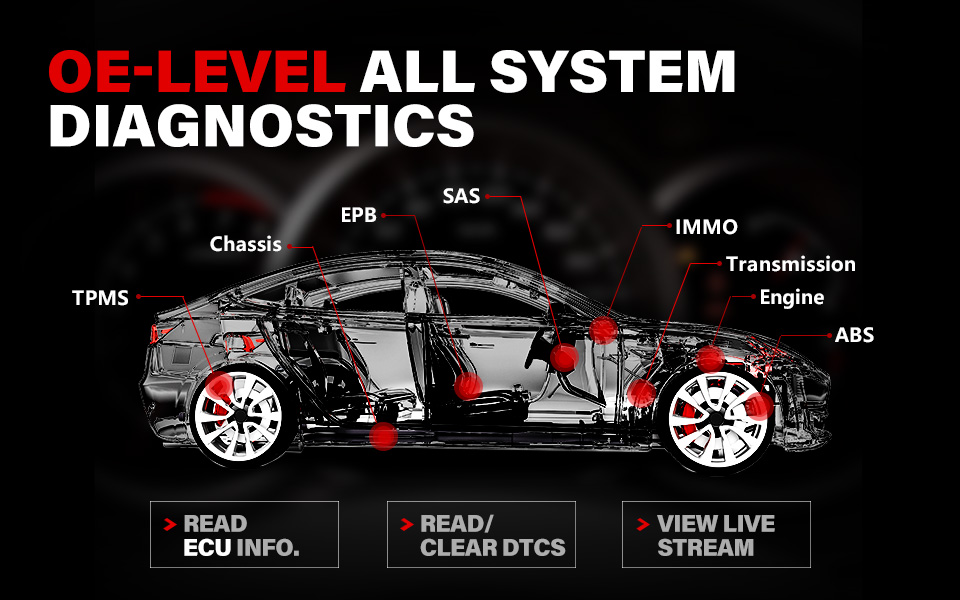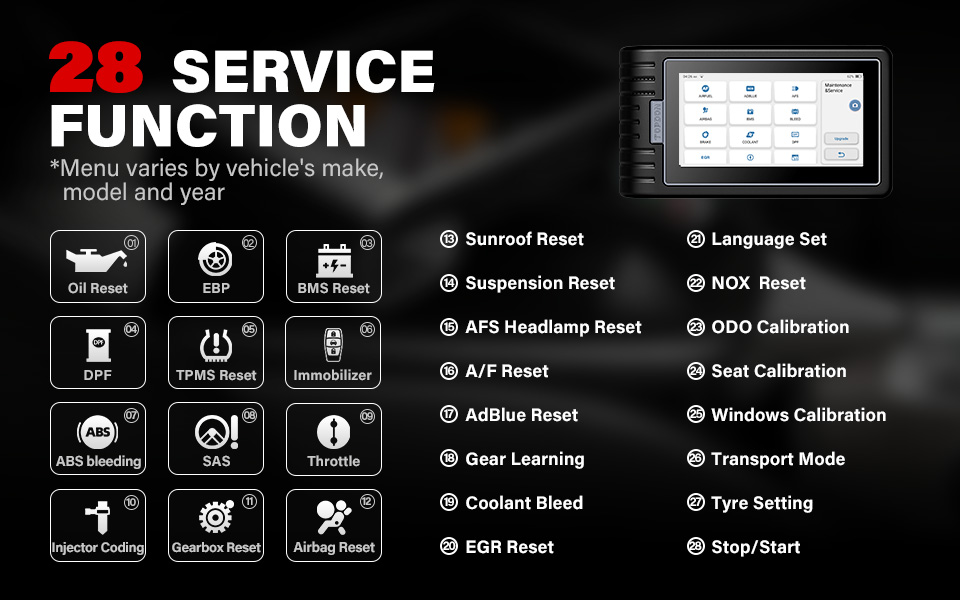 28 Special Reset Functions
1.Maintenance Light Reset
This function enables you to reset the oil service lamp for the engine oil life system, which calculates an optimal oil life change interval depending on the vehicle driving conditions and weather events.
2.Steering Angle Reset
This function can reset the steering angle to zero to keep the car running straight
3.Injector Coding
This function can write injector actual code or rewrite code in the ECU to the injector code of the corresponding cylinder, so as to have more accurately control or correct cylinder injection quantity.
4.Battery Matching
This function can reset the monitoring unit of the car battery, by clearing the original breakdown information about the lack of battery power to rematch the battery.
5. ABS Bleeding
-Get a firm brake pad after air exhaustion.
6.Throttle Matching
This function can utilize the car decoder to initialize the throttle actuator so that the learning value of the ECU returns to the initial state. By doing so, the movement of the throttle (or idle motor) can be more accurately controlled, thus adjusting the intake volume.
7.Electronic Parking Brake Reset
This function helps you to replace and reset the brake pad.
8.DPF Regeneration
This function can help remove particulate matter from the trap by using combustion oxidation methods to keep the performance of the trap stable.
9.Anti-theft Matching
This function can match the anti-theft key after replacing the ignition key, ignition switch, instrument cluster, engine control unit (ECU), body control module (BCM), and remote control battery
10.Tire Pressure Reset
This function can reset the tire pressure and turn off the tire pressure fault indicator when the car tire pressure fault indicator light is on.
11.Suspension Level Calibration
This function can adjust the vehicle body height sensor for level calibration after replacing the vehicle height sensor or control module in the air suspension system, or when the vehicle level is not correct.
12.Headlight Matching
This function can initialize the adaptive headlight system. The headlight system can decide when to turn on the headlights based on the ambient light intensity. It can also monitor the vehicle's driving speed, body posture, etc., and adjust the headlight lighting angle timely.
13. Gearbox Reset: Procedure Reset Transmission Adaptive Learning DIY. Start the car and drive. Once you perform this procedure the Engine Control Unit (ECU) and Transmission Control Unit (TCU) will work together to learn how you drive by monitoring your driving pattern. After you follow this programing method of the TCU / ECU drive the car.
14. Gear Learning: The scan tool monitors certain camshaft position sensors signals to determine if all conditions are met to continue with the procedure for Engine running.
15.Sunroof Initialization
This function can set the sunroof lock off, close in rain, memory function of sliding/tilting sunroof, outside temperature threshold, etc.
16.EGR Adaption
This function can learn the EGR (Exhaust Gas Recirculation) valve after it is cleaned or replaced.
17.Tooth Learning
This function can perform tooth learning for the car, to turn off the MIL
18. IMMO Key Programming(Anti-theft Matching):The unique car key programming and read pin code function, it is mainly used to disable the lost vehicle keys and program a new replacement key fob.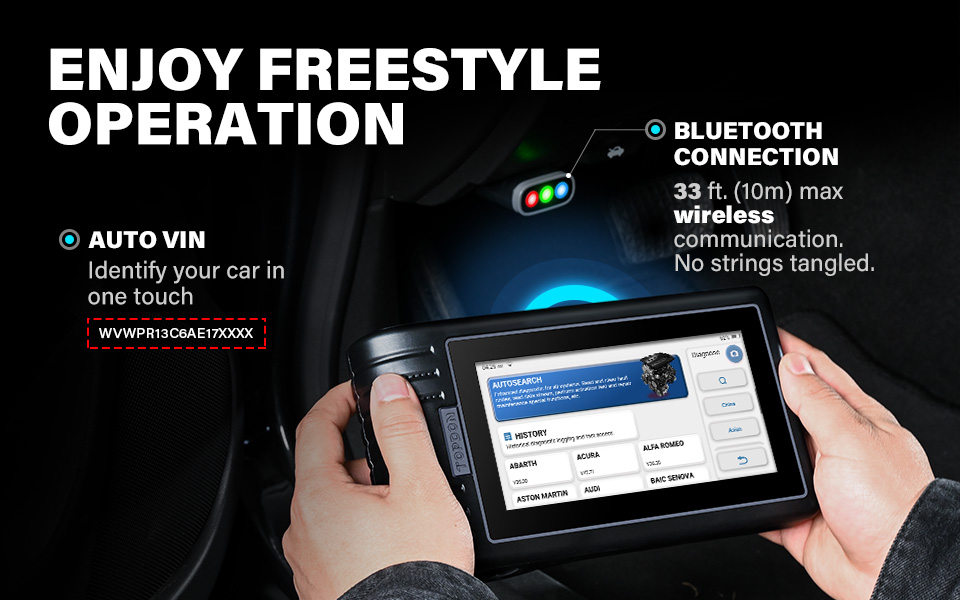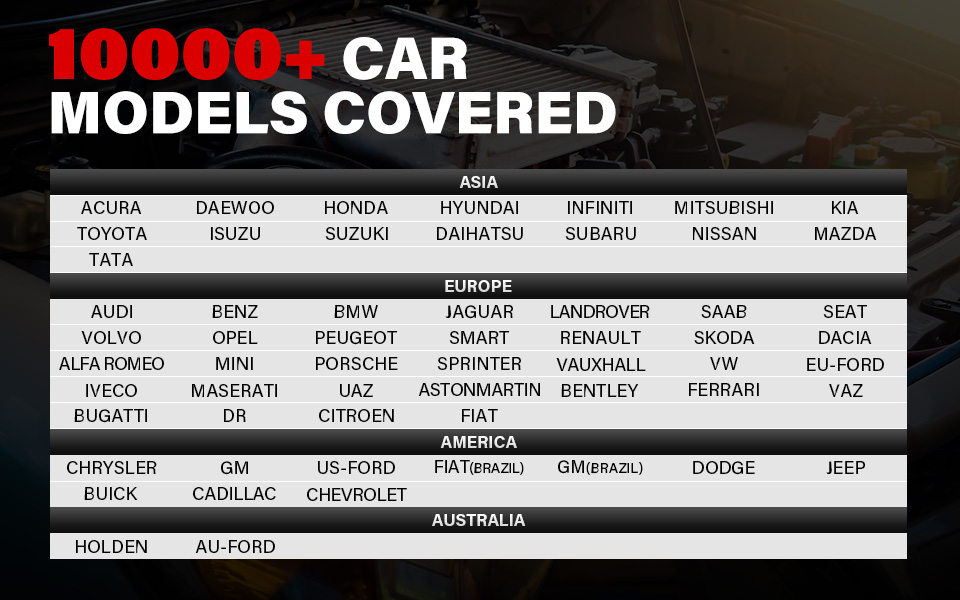 Tablet Tech Specs:
• Battery Capacity: 3100mAh/7.6V
• Screen Size: 5.99 inches
• Resolution: 720*1440 Pixels
• 2GB RAM, 16GB ROM
• Working Current: ≤2.5A
• Working Voltage: 5V
• Working Environment: 32 ℉ ~122 ℉ (0℃ ~50℃ )
• Storage Environment: -4 ℉ ~140 ℉ (-20℃ ~60℃ )
TOPDON ArtiDiag800 BT Diagnostic VCI Dongle
• Working Voltage: 12V
• Working Current: ≤60mA
• Working Environment: 14 ℉ ~122 ℉ (-10℃ ~50℃ )
Package List
• ArtiDiag800 BT
• Bluetooth VCI Dongle (Pre-installed in the Unit)
• Charging Cable
• Charging Adapter
• Passport Envelope
• User Manual